Confirmed Scrum Professionals challenge their teams to deepen the practice of Scrum and Agile principles. CSPs demonstrate seasoned experience in the practice and implementation of Scrum.
If you are prepared to take your insight and skills in your Product Owner role to the following level, an ideal opportunity is completing the Certified Scrum Professional®-Product Owner (CSP®-PO) course.
Solidify your approaches for validating product assumptions, learn advanced interactions with customers and users and master advanced Product Backlog management.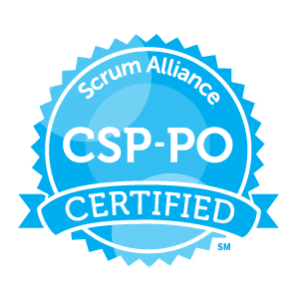 Certified Scrum Professional – Product Owner
New Classes Coming Soon!
Through the CSP-PO course, you'll interact with a team of product owners and a Certified Scrum Trainer as you work your way through the Scrum Alliance's CSP-PO Learning Objectives.
Certified Scrum Professional – Product Owner (CSP-PO) Learning Objectives
Building Product Owner Core Competencies
Product Owner as Product Champion

Advanced Stakeholder Discussion

Launching Scrum Teams

Product Ownership with Multiple Teams
Implementing Purpose And Strategy
Market-Driven Product Strategy Practices

Complex Product Planning and Forecasting

Product Economics
Advancing Interactions With Customers And Users
Validating Complex Product Assumptions
Advancing Product Backlog Management
Differentiating Outcome and Output

Defining Value

Ordering Items

Refining Items to Deliver Customer Value Quickly
Benefits of Certified Scrum Professional – Product Owner (CSP-PO):
Attend exclusive CSP events with other leaders in Agile and Scrum

Attract more recruiters and command a higher rate of pay

Establish a gateway and milestone toward becoming CST®, CEC, or CTC

Receive a free Premium subscription to the world's largest Agile assessment and continuous improvement platform, Comparative Agility®
REQUIREMENTS of CSP-PO
Hold an Advanced Certified Product Owner (A-CSPO) certification with Scrum Alliance.

Attend a certified CSP-PO educational offering to gain advanced knowledge in implementing purpose and strategy, high level approaches for testing product assumptions and advanced techniques in Product Backlog management.

Successfully complete all educator-designed components of an approved educational offering. This may include pre- or post-course work as deemed necessary by your approved educator to complete the learning objectives.

You will be asked to accept the CSP-PO License Agreement and complete your Scrum Alliance membership profile.

Validate at least 24 months of work experience specific to the role of Product Owner (from within the past five years).
Maintain your CSP-PO by earning Scrum Education Units® (SEUs) and renewing your certification every two years. Learn more
NOTE: You may take the CSP-PO educational offering at any time after completing your A-CSPO certification, and must have at least 24 months of Product Owner experience logged into your Scrum Alliance profile before you are eligible to receive your CSP-PO certification.