Our Values are Central
We bring humanity to the workplace by helping individuals and organizations achieve their true potential by levering the strengths of Agile values and principles. We support your transformation journey by focusing on these important set of values.
Integrity :: Our team is highly respected in their Agile communities with over 70 years of collective transformation experience. Our trainers coach and our coaches train. We continuously test and apply the theory of the class room to real world challenges. We live what we teach.
Creativity :: We focus on the never ending challenge of coming up with new ideas and tools we can use to help our customers achieve their transformation outcomes.
Commitment :: Instead of sales calls, we make discovery calls. We spend time getting to know our customer's needs and their objectives. We are committed to your vision – not an out of the box solution.
Honesty :: We never "bait and switch". Our coaches are involved in the sales process from the discovery phase through execution. Our coaches are the best we can offer. We never give you less.
Openness :: If we don't believe we can help, we won't accept the engagement. Likewise, if your journey takes a drastic change, we'll support that new direction leveraging our best creative abilities. If we can't help, we'll recommend someone we are confident can. After all, each customer must own their own unique Agile transformation story.
If you'd like to engage in a discovery call, contact us at info@rocketninesolutions.com we'd love to uncover ways to help your organization along your Agile journey.
Agile Scrum Methodology & Training
Rocket Nine Solutions is an Agile Scrum Methodology and consulting company led by Scott Dunn, one of only 30 dual Certified Scrum Trainer and Certified Enterprise Coach worldwide.  Previously a developer (MCSD), project manager (PMP) and Scrum Master for over 10 years,  Scott has lead agile adoptions at many companies. Scott is also a SAFe Program Consultant and certified in Large Scale Scrum (LeSS) and Agile Leadership (CAL) as well. Previously an agile coach with Forrester-leading agile companies Rally (acquired by CA) and BigVisible (acquired by SolutionsIQ), Scott is a pragmatic and relational agile coach and trainer with over 20 years experience consulting or working internally within IT departments as a developer (MCSD), manager and project manager (PMP) at companies from Inc 500 to Fortune 500.
Clients include Dell/EMC, Canon, Assurant, First American, Blizzard, Yahoo!, Kaiser Permanente, eBay, Technicolor, Rovi/TiVo, and many others.
In addition, we partner with top-notch, independent agile consultants from across the continent. Focused on serving the market in Southern California, Rocket Nine consultants have provided training and coaching in Scrum and agile for teams in the entertainment, interactive, new media, finance and healthcare industries in Los Angeles, Orange County, Inland Empire, San Diego and the rest of the SoCal region. We have coached agile adoptions for large, distributed teams as well as start-ups. Our specialty is strengths-based teams, individual growth, the new role of agile managers and agile product management, leveraging our real world experience in positions of product management, marketing, management and architecture.
We are involved in the local agile community, hosting the Orange County Scrum Day, and Southern California Agile Leadership Summit, as well as speaking at Agile SoCal, PMI conferences and meetings, and OC Product Manager and Product Camp events, and sponsoring the yearly  Agile Open.
Scrum Agile Methodology, Tutorials, Training & Consulting Services
Training For You or Your Entire Organization
Many organizations want to implement an agile development model,
but implementing a change of that magnitude can feel nearly impossible.
It isn't. We can help.
Register Today
We offer training courses every month and registration is simple.

Get Certified
Our highly rated courses will help you pass the certification test on the first attempt.

Do It Right
No more winging it! Have confidence in your agile skills.
Agile Certifications
Individual & Whole Team Training
Learn how to do agile in a way that sticks. No more winging it or using a "scrum-like" model. After our trainings, you'll be able to start implementing a proper agile system that delivers the results you want as soon as you leave.
Our trainings are perfect for:
Onboarding New Hires

Get team members started on the right foot.

Aligning Your Team

Check your current use of agile against best practices.

Career Advancement

Become a better developer and manager.

Broaden Your Understanding

Scrum, Kanban or XP. We've got your covered.
Customized training
Private Training
We offer private training for organizations seeking to train a large group or implement agile organization wide. These can be completely customized to your unique needs.
Many tech leaders find it difficult to get other business units on board. When this happens, the culture around the agile team can make it impossible to get traction.
Our private trainings cut through the clutter and provide you with a roadmap to implement agile without the false starts.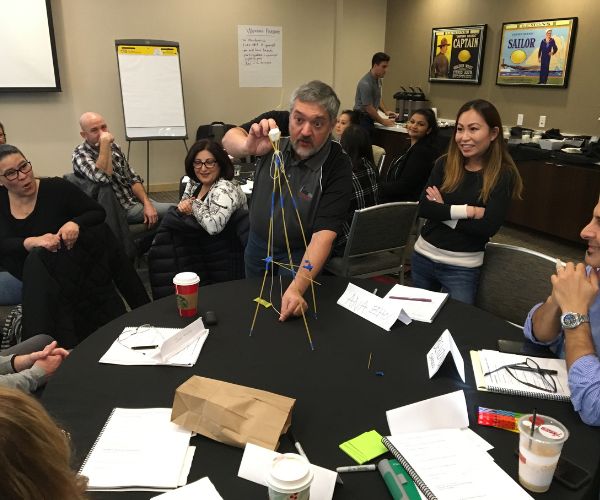 Scrum was just a word, but after this class it is now a way of doing business.
Richard Martinez
IT Operations
Rocket Nine solutions hit home the need for collaboration.
Karen Moyer
Systems Analysis Consultant
The coaches were outstanding. Catered to all learning types!
Tiffanee Fuentes
Project Manager
Great experience. Excited to bring this knowledge to my team and try in a different discipline.
Daniel Chow, MD
Co-Director, Center for Artificial Intelligence in Diagnostic Medicine at UCI
Great facilitation. Like a short story theory: every piece contributed to the delivery. Every piece I needed and wanted to understand, adopt and apply.
It is great to have this training locally! I really appreciate the real world examples for successes and failures.
Marge Tam
Sr. Project Manager
Very engaging trainers and hands-on exercises to really absorb Agile, not just "hear" about it.
Karen Hayden
Systems Analysis Consultant
Class was great, information is useful and relevant, perfect amount of interaction.
Tons of good information wrapped into 2 days that was engaging and provided practical examples to take back to the work place.
Victoria George
Product Owner
The instructor was knowledgeable and provided a variety of methods that helped reinforce the concepts. Strongly recommend!
Nick Cottrell
Product Design Leader
Activities perfectly help us to remember key concepts!