I've often said that the introductory Certified ScrumMaster course isn't enough for anyone beyond the most simple scenario of a single, co-located, cross-functional, dedicated team. It's a start. We have needed a pathway for an advanced scrum master role.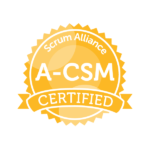 The new Advanced Certified ScrumMaster training is the next step on deepening your skills and abilities around the most common questions and issues raised in the CSM class, such as:
Scaling
Conflict
Helping the Product Owner
Improving Team Performance
A-CSM
In the following video, my respected peer, colleague and friend Angela Johnson and I discuss "Why Advanced Scrum Master" this new offering from the Scrum Alliance. Angela has broad and deep experience with Scrum, agile transformations and the emerging Scrum at Scale and Large Scale Scrum frameworks.
In this 2-day experience, you will focus deeply on the following learning objectives and will be able to demonstrate advanced knowledge of:
Lean, Agile, and Scrum
Agile Facilitation
Agile Coaching
Service to the Development Team
Service to the Product Owner
Service to the Organization
Scrum Mastery
Full Learning Objectives are here: https://goo.gl/F9EC8B
What past customers have to say about Rocket Nine Solutions…
"Scott's attentiveness to our needs and always being willing to listen to our stories and our concerns. All the guys at Rocket9 make it enjoyable to grow our knowledge…"

— Troy Lundquist, Sr Scrum Master

"Great facilitation. Like a short story theory: every piece contributed to the delivery. Every piece I needed and wanted to understand, adopt and apply. So there. 😊"

— Lily Sieu, Scrum Master
Recommended Experience for Advanced Scrum Master Participants:
CSM with 1+ years of experience
Certified Scrum Practitioner
Certification:
To be eligible for the A-CSM certification you must satisfy the following criteria:
Be an existing CSM in good standing with the Scrum Alliance
Have 12+ months working as a Scrum Master
Be prepared to share your personal experiences
Attend and participate in the 2-day class
Complete Day 1 homework
Scrum Master Training Professional Pathway
For information about public or private on-site classes for Advanced Scrum Master classes, please fill out the form below!
See our other content for the advanced scrum master: