Certified Scrum Master Training: Become the Agile Team Coach
This two day Certified Scrum Master training workshop provides everything you need to get started with Scrum. Scrum is the largest and fastest-growing Agile approach, and a simple framework of interrelated practices and rules, is not overly prescriptive and enables more effective teams almost immediately.
Online CSM® classes taught by trainers certified by the Scrum Alliance® provide the best Scrum certifications.
Our online courses are designed for busy adult learners who want online scrum training for certification. All our virtual Scrum courses offer the latest in web conferencing technology, audio/video and interactive features including animations, polling, quizzes, breakout groups and Scrum simulations.
Virtual class size is limited to enhance the learning experience and ensure that Scrum and Agile concepts are fully understood by every student. All are welcome: Scrum Masters, Product Owners, team members and managers.
Live, Interactive 2-Day Class
Our CSM class is fun and engaging, using a variety of online training techniques to keep you active and involved as you learn Scrum.
We Pay All Your Fees
We cover all your fees associated with the CSM Exam and Certification as well as your first TWO years of Scrum Alliance Membership.
Personal Mentoring
Our 100% Commitment to you includes working with you after your class to give you the confidence and knowledge to succeed.
Free Membership
Your Scrum Alliance membership gives you access to the largest, most established professional Agile global community.
16 SEUs + 16 PDUs
Whatever your ongoing learning needs, you have 16 PDU credits for PMI and 16 SEU credits after completing this course.
Scrum Master Guide Videos
Our unique video series is designed to share tips and tricks designed to give you the knowledge and confidence to thrive as a Scrum Master.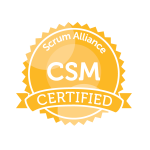 Scrum master training covers the Agile Manifesto, Scrum Values, Scrum Framework, Product Backlog, User Stories, Story Point Estimation (Planning Poker), Scrum Meetings and Scrum Roles. Other additional topics often include Scaling Agile, Distributed Teams, Agile Adoption and Transformation, "Agile Project Management," getting leadership and management support, and more.
Advance Your Career as a Certified Scrummaster
Get Recognized as a CSM
Looking to grow your influence in your current organization? As a Certified ScrumMaster, you display a confidence and knowledge that tells your team that you mean business.
As a Certified ScrumMaster, you'll have the training you need to help your Scrum Team perform at their highest level. Through the certification process, you'll learn the Scrum framework and gain an understanding of team roles, events, and artifacts. As the expert of Scrum values, principles, and practices, the ScrumMaster protects the team from both internal and external distractions.
Land that Dream Job
Earning a CSM credential from Scrum Alliance will make you a more valuable employee to current or future employers while empowering you to make a difference or impact positive change in their workplace.
Become certified as a Scrum Master and join a league of professionals earning up to $118,000 per year. The CSM Certification opens new career opportunities for you in multiple industries.
Scrum Alliance education and certifications give you endless ways to distinguish yourself as a Scrum and Agile practitioner.
Scrum Master Training Professional Pathway
CSM
A-CSM
CSP-SM
More classes coming soon!
Continue your Scrum Master Journey
Advanced Certified ScrumMaster (A-CSM)
Certified Scrum Professional – ScrumMaster (CSP-SM)
Scrum Master Related Content:
Who Should Be the ScrumMaster?
Scrum Master as Servant Leader