Certified Scrum Product Owner Training: Business Voice of the Team
This two-day Certified Scrum Product Owner training provides everything you need to get started as the business point person using Scrum with a team. You may be a product manager, project manager, business analyst or other subject matter expert (SME), but whichever role, you know you are the voice of the customer – the one specifying what team should build, the vision, roadmap and priorities for the team and deciding on the feature, cost, and quality tradeoffs.
Classes
Looking for Advanced Product Owner Training? Click Here.
The product owner training course is taught interactively. No death by PowerPoint. Students will learn about vision, roadmaps, release planning, estimates, trade-offs, user stories and more hands-on via teams, discussions, numerous exercises and fun.
This short video on our Scrum product owner training shows some of how and why our workshops are different from most others.
We'll also cover the basics of "what is Agile", the Scrum Framework, Product Backlog, story point estimation with Planning Poker, Scrum Meetings and Scrum Roles. Other additional topics often include Scali

ng Agile, Distributed Teams, Agile Adoption and Transformation, "Agile Project Management," getting leadership and management support, and more.  I have three years experience as a full-time ScrumMaster, and another three coaching at some of the best agile coaching organizations in the nation, Rally (now part of CA) and BigVisible (now part of Accenture), and a Certified Enterprise Coach, with additional certifications from Pragmatic Marketing, and in Large Scale Scrum and the Scaled Agile Framework. I also was a manager and a developer, so I have experience with some of the dynamics at play in the agile transition.
Looking for Advanced Product Owner Training? Click Here.
Feedback from our Product Owner Training Students
"Exercises and group activities are well designed to strengthen the memory of the key knowledge points. Retrospectives after the activities are effective."
"I liked the guide to scrum meeting agendas. Scott was great."
"The product owner training was full of activities and hands-on exercises. Great visual slides and illustrative mind maps. Really helpful."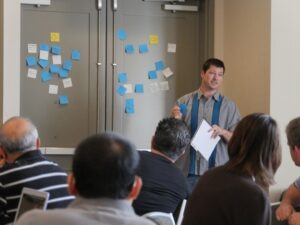 Product Owner Training Professional Pathway
Product Owner Training Related Content
Should a Scrum Master take Product Owner Training?