Lots of product development teams are asking how to run a Design Sprint. Now's your chance to go through a 1 day Design Sprint training Bootcamp.
Learn the Design Sprint process from Design Sprint Facilitator Jason LaManque. In one interactive, fast-paced day, you will experience a hands-on simulation of a real Design Sprint.
From mapping, sketching, and deciding, to prototyping and testing, you'll learn to master each step by actually doing it.
What's a Design Sprint?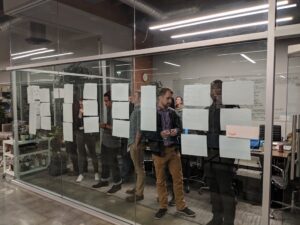 Design Sprints are a proven, repeatable process for rapidly solving big challenges, creating new products or services, or improving existing ones. It compresses months of work into just a few days. Design Sprints help validate your new service or product idea quickly and effectively so you can focus on giving your customers what they truly want.
What Will I Get From This Design Sprint training Bootcamp?
Practical, expert coaching on each step of the design sprint
Hands-on, collaborative exercises that can be replicated in your workplace
Tactics to improve productivity, solve big challenges, and foster innovation at your organization
Tips on how to introduce and implement design sprints at your organization
Connections with like-minded innovators
Design Sprints are a Google Ventures game plan for figuring out if a new feature or service will wow customers or not by utilizing design-thinking principles coupled with lean and agile methodologies to deliver a high-fidelity, user-tested prototype. In this session Jason LaManque will instruct participants on the why's and how's of Design Sprints. The majority of the day will be a hands-on bootcamp on how to implement Design Sprints with a product.
Who Should Attend Jason's Design Sprint Bootcamp?
Really anyone who wants to create solutions and develop products and services better and faster, especially:
Founders, Owners, and Executives
Team Leaders and Managers
Product Designers, UX, and UI
Creatives, Innovators, and Entrepreneurs
Anyone who wants to have a larger impact on key projects
Rocket Nine Solutions' courses are taught interactively. This Design Sprint Bootcamp will be an in-depth, hands-on opportunity to put together a high fidelity, user-tested prototype.
Other Emergent Agile Training Courses:
Agile At Scale, Inspired by Spotify