Rocket Nine Solutions is pleased to offer Kanban training certified by Kanban University. Kanban is a great approach for teams whose work does not neatly fit into a typical Sprint and are looking for the benefits of an Agile approach to improve the flow of value and grow in the principles of business agility. Kanban is an approach for all types of knowledge work, not only software and IT teams, but also Marketing, Product Development, HR, and other areas.
---
Team Kanban Practitioner (1 day class)
During this one-day interactive and engaging Kanban training course you will learn:
The Kanban Method – principles, practices, and benefits
Visualizing work through a team Kanban Board and Work Items
Techniques to manage flow
Advantages of a "Pull" system
Benefit and techniques of limiting Work-In-Progress (WIP)
Essentials of being an effective Kanban team member
Paths for further growth in the Kanban Method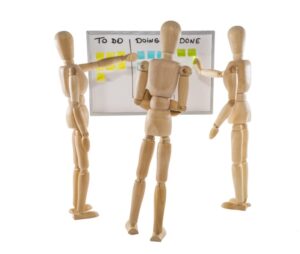 Team Kanban Practitioner qualification
Successful completion of this course meets the requirement for the Team Kanban Practitioner (TKP) status designation indicating competency in visual management for improved collaboration and Team Kanban concepts based on the Kanban Method. You will receive:
A certificate of completion issued by Lean Kanban University — recognized globally as the leading certifying body for Kanban professionals.
A digital copy of the book "Kanban: Successful Evolutionary Change for Your Technology Business" by David J. Anderson.
No current class listed? Please contact us to join the Kanban training interest list or if you have any questions about Kanban private training and your organization's unique needs.
Past

Kanban training classes offered by Rocket Nine Solutions
Related Content
Are you considering moving from Scrum to Kanban?
Starting Kanban – The Key Idea
Agile Coffee Podcast #63 – All Things Kanban with Van Wray
Top 10 Assumptions about Agile
Looking for Private Kanban Training or Coaching?