In my SAFe training one week (Leading the Scaled Agile Framework), a student commented on where does Scaled Agile fit within the classes and certification from the Scrum Alliance. I referenced the flowchart below in my answer to explain The Certified SAFe Agilist and how it fits.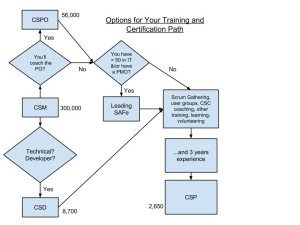 The Certified SAFe Agilist
(the designation you receive after taking the introduction to 2 day SAFe workshop, and passing the test), is an approved class by the Scrum Alliance as Extended Education and good for 16 SEU's (Scrum Education Units) towards the CSP (Certified Scrum Practitioner).
On the practical side,
the two day Certified SAFe Agilist class
is a good introduction (including multi-team release planning simulation) of the Scaled Agile Framework (Scrum team level, Program level and Portfolio levels), lean, and agile leadership. It provides options (not mandates – it's a framework) for Program Management, architecture, and UX (user experience and design) to be a part of the value stream of ideas to delivery. Yes, companies can discover for themselves what to do in their agile adoption and use Scrum only, but most would agree that 1) these large, late-adopting companies would benefit from coaching and 2) they rarely get enough coaching (if at all) over a long enough period of their transition.
In my opinion, Certified SAFe Agilist is a win-win to learn about a popular and proven approach as another set of tools in the toolbox, an opportunity for another certification, and as well as credit towards moving ahead the CSP.