The Rocket Nine Coaching Cohort is intended to help Agile leaders in organizations to reinforce and extend the learning begun in the Certified Agile Leadership program.
The format for this group is a light touch check in and discussion group with peers and a Rocket Nine agile coach facilitator. Members will meet on a weekly basis, share how they're dealing with challenges in their separate contexts and have a chance to give and receive feedback to one another.
Note: While this group can count toward SEUs for Scrum Alliance certification renewal purposes, the group is not working toward a specific additional certification. If you are interested in joining a CAL II cohort for $4,995, please visit our partner's website at Agile Leadership Journey and tell 'em Rocket Nine sent you. 🙂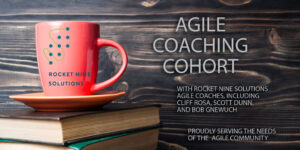 We have helped hundreds of change agents and agile leaders, from brand new to deeply experienced, with areas of their own growth and effectiveness, influence, soft skills, systems thinking, and knowledge gaps of agile practices, scaling and leading change.
Sign up for the Online Coaching Cohort. Join a group of learners. Grow your ability, knowledge, and connections.
We will be holding online video conference calls twice a month, with new cohorts forming as participants register.
The Online Coaching Cohort will cover the most salient issues of the participants with a blend of user-generated topics as well as typical problem areas like stakeholder buy in, focus on business value, coaching at the team, system, and organizational level, demonstrating value with relevant intelligible metrics, and more.