How to Get Started with Scrum in my Company? Scott Dunn, CEO of Rocket Nine Solutions answers this question from a passionate agile with Scrum methodology perspective.
How to Get Started with Scrum in my Company?
For smaller companies pick a pilot project. Make sure the company understands the rules of Scrum. Get training for:
Training is important for baselining everyone's understanding of how to work in an agile environment using Scrum methodology. (Check out our Intro to Scrum and Agile online course)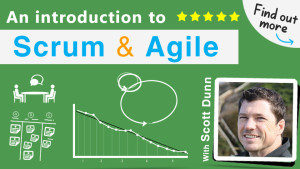 If you are trying to use Scrum at a larger company with 5, 10, or more teams, the Scaled Agile Framework can help with coordinating larger Scrum adoptions. Management usually wants to know where existing roles will plug into an agile methodology. We start with management training, including HR as well as upper and middle management so they understand their role in supporting an agile transformation.
(Find our latest offering of SAFe Agilist courses at: http://rocketnine.eventbrite.com/)
Two key questions for success with how to get started with scrum in my company in an agile adoption:
Who is your Scrum or agile evangelist? Who is passionate about adopting agile and will spearhead the good, important, but difficult changes ahead.
What's the funding? What level of priority is attached to this effort? If the dollars for training and coaching aren't there, success gets much less likely.
You can also get insights from classic agile adoption case studies like:
Resources mentioned:
Transformation Checklist
Looking for Wins for Management
Telling Stories
(Coming soon)
For more information on Scott Dunn, Rocket Nine Solutions, or the agile Scrum methodology courses we offer, please visit our about page.
Certified Scrum Methodology Courses we offer:
CSM (Certified ScrumMaster) |CSPO (Certified Scrum Product Owner) | SAFe Agilist
How to Get Started with Scrum in my Company | RocketNineSolutions.com | Agile Scrum Methodology