"I may not get there with you." – Martin Luther King, assassinated the following day.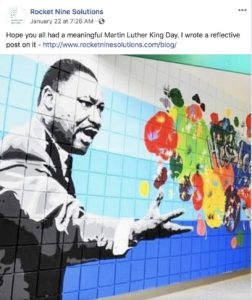 I hope you had the day off for Martin Luther King Jr. Day, to look back and reflect on his impact. The holiday is one of only three national holidays that recognize an individual. The other two are George Washington and Abraham Lincoln.
What would you be willing to sacrifice your life for?
Ok, maybe that's extreme. I'll soften it. What would you be willing to sacrifice for?
There are over 500,000 Certified ScrumMasters who likely discussed the term "Servant Leader" in their class.
Servant leadership puts the good of others ahead of their own, and with the position of leadership comes a desire to impact more lives. Contrast that self-effacing view of leadership against "the need to assuage an unusual power drive or to acquire material possessions," according to seminal author Robert Greenleaf. This servant leadership applies to your team and organization.
But do you turn off who you are when you walk out the door at the end of the day, then turn it back as you walk in again at 9:00 AM the next morning? Are you not a servant leader at night, on the weekend?
Perhaps the heart of a servant leader serves not just those at work, but at home, and in their professional and personal communities.
To serve others means a sacrifice of time, energy, money and perhaps more. But that is part of the calling of a servant leader.
Nelson Mandela, another Nobel Prize winner, said "Real leaders must be ready to sacrifice all for the freedom of their people."
Freedom can exist in many forms – feeling stuck at work, unsustainable pace or death marches towards delivery dates that were never realistic, financial freedom (politely called, "Forget you!" money), psychological safety in the team and workplace, and even emotional freedom.
My observation of leaders is that we will accomplish nothing great without sacrifice. We may busy ourselves with personal accolades and financial rewards, but neither has lasting impact. We are far too easily content with our lives, driving home to comfort and entertainment, while outside our walls are a thousand needs and injustices.
Actually, over 130,000. And that's just on VolunteerMatch alone.
Mandela said, "What counts in life is not the mere fact that we have lived. It is what difference we have made to the lives of others that will determine the significance of the life we lead."
Servant leadership is not something that you pick up and put down at work. Servant leadership something you decide to be and that becomes reflected in everything you do. And that includes your personal calendar and checkbook. It means sacrifice. But that sacrifice changes you, refines you, stretches you, and grows you and your capacity as a leader. You are better off. For this reason, one leader once said, "We need the poor more than the poor need us."
And it is only by sacrifice will we change the most seemingly insurmountable problems.
Martin Luther King, Jr. wrote "Injustice anywhere is a threat to justice everywhere…Whatever affects one directly, affects all indirectly."
Justice: just behavior or treatment. "A concern for justice, peace, and genuine respect for people"
Just: based on or behaving according to what is morally right and fair.
Surprisingly, perhaps, is that you don't have to look outside of our own Agile community to find injustice. Agile practitioners, coaches, trainers and companies – a group committed to values of collaboration and respect, are home to numerous lawsuits and threats of lawsuits, the financial toll exceeding multiple millions. I have personally experienced lack of justice with Brett Palmer if one doesn't have the money to pay for justice.
Yet we, servant leaders and change agents, often stand passively and do nothing. Worse, some claim neutrality, "not getting involved," or nescience while profiting from both offender and offended alike. They, as Martin Luther King write, "prefer a negative peace which is the absence of tension to a positive peace which is the presence of justice." Easiest, and safest, to do nothing.
At some point, you have to stand up for what is right and support others who have done so. And, yes, that might mean sacrifice.
To make it practical, do you buy from companies who have a history of human rights or environmental grievances? Do you use vendors or partner with companies with complaints against them, violated agreements, broken contracts? Do you factor values, service, sustainability and giving back into who or what you choose?
And I've been there, and it's hard to choose what might involve sacrifice, yet is "morally right and fair." That's fighting injustice.
Get off the sidelines. Take a stand. Take action. Join the cause.
"I have become more convinced than ever that the real makers of history are the ordinary men and women of our country; their participation in every decision about the future…The efforts of a small dedicated group of leaders working objectively and without any vested personal interest in the outcome, can help resolve what often seem like intractable problems." – Nelson Mandela
Related Links