Clients regularly come to Rocket Nine asking us to train their staff. They understand the benefits of all team members hearing the same message and developing a common language, but they may have questions like:
We realize that every organization is different, so our job is to help clients craft a plan that works for them. We start by asking what they want the training to accomplish. Are they looking for everyone to have a basic understanding of Agile, or do they want to focus on a specific role (eg. developer, Scrum Master, etc.) or skill (eg. user story mapping, Extreme Programming practices, etc.)?
If the client wants general training for a broad audience, we usually recommend our Agile Overview course.  This gives everyone on staff a common perspective into what Agile is while still leaving room for advanced training for SMEs (eg. Product Owners, Scrum Masters) at a later time.
Here we offer several options. Clients could send participants a few at a time to our public classes, or they could have us deliver one or more on-site sessions. Below are some considerations for each scenario.
Pros & Cons of Public Training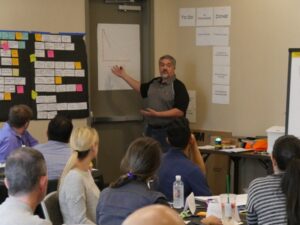 It may sound easy to simply send your team to a publicly listed Agile overview course. After all, there are a few key benefits of public classes.
Cost-effective for an individual or small team – if you need to train only a modest number of staff, it might make financial sense to find a public class. But keep in mind that costs will rise if the location is too distant or more staff are sent later.
Distraction-free – being away from the workplace frees attendees from distractions and allows them greater opportunity to focus on the content.
Networking opportunities – training off-site is a great opportunity to meet and network with people from outside your workplace or industry.
Hearing outside perspectives – because the public class includes participants from many organizations and industries, your learning experience may include stories of Agile being applied in ways that you might not have otherwise considered.
While there are a few advantages to sending your staff to a publicly listed class, there are also some significant downsides. Here are a few disadvantages to public sessions:
The time and place are fixed – if your team doesn't have the flexibility to make the publicly listed class, that's too bad. You'll need to find another date that better accommodates the group.
Standardized curriculum – with a more-or-less fixed agenda, public classes are generally not able to be tailored to the needs of specific attendees.
Inconsistent message between multiple sessions – if the whole group cannot attend one session together, sub-groups may need to attend different classes, perhaps with different instructors. This can lead to a mis-alignment around a common language and training experience.
Cost – while training a small group might be less expensive, economies of scale swing the other way for larger groups. Once you pass the threshold of 6-8 attendees, the cost of training can become quite costly. In addition, there may be costs related to travel and accommodation if the location of the training session is far away from the workplace.
Hosting an In-house Agile Overview Session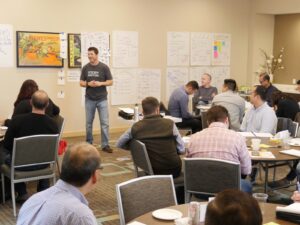 Managers who want to get a large group – or many groups – of staff trained are encouraged to consider hosting a private in-house session. These sessions will be open to only the people that you choose to have attend, and the learning objectives can be tailored for your organization's own unique challenges, experience levels, and goals.
Additional benefits may include:
Individuals can develop a common language to get on the same page.
The organization can be aligned by building bridges between the business and technology. This is essential when shifting the culture and mindset required for Agile thinking.
Attendees can share specific challenges and engage the whole group in a discussion on the topic without concern for proprietary information cutting the conversation short. Attendees may also feel safer to speak freely without damaging their organization's reputation among a public roomful of strangers.
Practical demos trump theory – the Agile methodology is best learned through real life examples. Your team may be familiar with the theory, but your instructor may lead an intermediate group through more hands-on exercises.
Convenience – there's substantial flexibility on when and where you decide to host the class – it may be at your place of business or off-site at some preferred training location.
Larger private classes can leverage the economy of scale to bring the per-person cost down.
We often see clients choose a private in-house Agile Overview class (or series of classes) as part of a kick-off for a project or transformation. In this event, the client may include other team-building activities outside of the course itself. The class agenda can be adapted to suit the specific learning requirements of the group in order to provide practical content without sacrificing convenience.
In summary, we recommend considering an in-house Agile Overview class when you want:
to train multiple teams or groups within your organization.
training that is targeted to the needs of the group.
the teams to be aligned with a common language and consistent approach.
the session to fit within a specific date range and at an ideal location.
to be cost-effective with a large group.
Download our Guide to Why Host an Agile Overview Class In-House