Enterprise agile transformation was the topic of the keynote by Ed Kraay and Stas Zvinyatskovsky of Yahoo! at Scrum Day Orange County. Ed and Stas discussed their experience of "Pulling an Elephant Out of a Tarpit."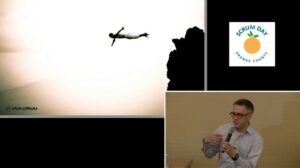 Enterprise Agile Transformation
Ed and Stas shepherded a large enterprise agile transformation scaled across over 600 developers at Yahoo! spanning three years with mission-critical business products. They discussed decoupling, automation, QA, risk, and leadership in an engaging keynote at Scrum Day Orange County in Tustin, California, March 14, 2015.
We were proud to sponsor Scrum Day Orange County along with Scrum Alliance and Pleiades Management Group
If you found this video inspiring or helpful, please share this post on your social network of choice.
Like Rocket Nine Solutions, Ed and Stas are serious about job satisfaction for developers and business value for companies as well as high-quality experience/minimal downtime for users. Ed and Stas emphasized the importance of decoupling various parts of the development team outcomes, so they are not dependent on one another for achievement. Each portion of the software product should be able to be developed, tested, and shipped independently. This process was a key part of allowing a large organization like Yahoo! to become agile.
We offer Scaled Agile Framework for Enterprise (SAFe) training which offers an agile methodology overview and blueprint for the large organization attempting to achieve an Agile Transformation. This Framework might have been useful for Yahoo! when they sought to achieve their transformation.
If you are interested in becoming a certified SAFe Agilist, Click here to register for our upcoming class.