Why Certified Scrum Developer training? Without the technical practices, Scrum will fail. Your team will perhaps build and demo software quickly, but will it be quality code that's easy to maintain? If QA barely got the new features tested, how will they stay on top of the next set of new features AND regression test the last set? This Scrum Developer training class covers, hands-on, the technical practices that enable teams to build quickly, iteratively AND sustainably.
When Scott Dunn, the founder of Rocket Nine Solutions, was a manager, I would suggest these practices to my team members, but I couldn't walk them through it as an expert. In my experience, they need someone with the technical chops to sit down with them and walk them through it, hands-on. Not only that, but much of DevOps is built on top of the TDD and CI practices, as well as the spirit of "automate everything." Getting these practices down within each sprint is the first step towards DevOps.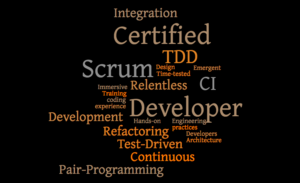 Description
In this course, we will not only discuss the truly cross-functional and iterative mindset needed by highly-responsive Agile teams; but will practice those engineering disciplines required for that mindset to become a reality.
In order to reduce defects so testers can better spend their time on the most valuable testing practices, we have TDD.
In order to reduce large batches of software to test, we have CI.
And, at the heart of these practices, we have refactoring, which lets us reshape code to handle the new and innovative features.
Additionally, we will discuss (and possibly implement) acceptance-testing (ATDD) aka storytesting aka one aspect of Behavior Driven Development (BDD).
All practices are pushed to the limit via two-hour sprints, effectively shattering any subconscious clinging to old ways.
And, just as critical to discovery and retention, everyone has a lot of fun doing it.
Certified Scrum Developer Training Interest Form
Certified Scrum Developer Training Related Content
Why take Certified Scrum Developer Training
CSD Requirements per Scrum Alliance