Meet Our Coaches!
Would you like to learn more about our Agile coaches?  You can find more information about them here.
Coaching Agile Program Management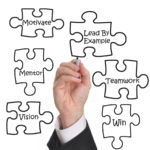 "Get outside coaching earlier." – Slide from SalesForce presentation on their agile adoption.
If you need expert help taking your company through an Agile transformation, contracting an onsite coach is a smart move. Whether you need a coach for a few weeks, a quarter, or longer, we can pair you with a practiced Agile coach committed to helping your company become Agile.
Remote Coaching has been available for years and with health precautions has become a necessity. Our coaches have experience working with distributed teams and can help your team move the needle in remote or in-person contexts.
The coaches in our network have behind-the-wheel experience with Agile program management and product development and will empower your teams to build on their strengths as well as be gut-level-honest about how they may be blocking their own progress. Whether you want to experiment with a "special ops" Agile dev team, or you are looking for companywide transformation, we can help.
Agile coaching is a means of help helping teams learn the basics, but also how to work through the challenges that Scrum surfaces, as well as the shift toward team-based self-organization. This involves working with individuals on the product development team, management and leadership. Moving from mentoring on the foundation of Agile and what makes Scrum (or Kanban, XP, etc) work, Agile coaches move into true coaching – helping others think through and make their own decisions, which is key to ownership, empowerment and motivation. Often teams, team members and managers are learning, trying new ideas, taking risks and stretching themselves in the transition to agile. Coaches help hold a mirror to them in order to help them see causes, options, trade-offs, and results that they may have otherwise missed in the busyness of just trying to get things done.
Our coaches have worked with Forrester-leading Agile coaching companies, hold advanced credentials and worked within many different companies and company cultures. With our passion for local involvement, we seek first to connect clients with coaches who live in the same community whenever possible.
Rocket Nine provides you with expertise, flexibility, local involvement and training support that is unmatched.
Questions? We'd Love to Talk…