Some of you might have noticed Rocket Nine has a new look. That's right. We got a new logo and theme colors in the spring of this year and have been slowly rolling them out starting with re-vamped course materials.

The Symbolism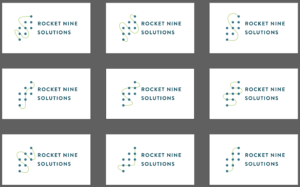 The new logo has three elements: Dots, Line, and Wordmark.
The Dots relate to the possible points needed to travel between the beginning and the destination on an Agile journey, for instance, Extreme Programming, Kanban, LeSS.
The Path represents how each of us takes a different path toward Agility and change (yes, there are 9 different versions of the logo with 9 different paths).
The Wordmark carries our company name and is a bold dark blue representing strength and stability.
On the design side, the new logo has more curves and smooth edges than the Rocket Nine rocket. These curves are intended to embody the human side of the training and transformation work that we do. This is captured in one of our new taglines: "Bringing Humanity Back to the Workplace". At the same time, each version of the path does have start and stop. We are serious about helping companies accomplish real change and not doing check-the-box Agile, fake Agile or change theatre in its various forms. This is captured in our other new tagline, "Get Trained. Create a Plan. Lead the Change."
The Story
People often ask what the name Rocket Nine Solutions is based on. Our founder Scott Dunn has shared how the name came up in a brainstorming session when he was at a start-up over 10 years ago. He liked the ring of it, but the decision-makers didn't. There were a lot of symbolic meaning connections like taking off on a journey together and ties in with the number nine at the time. Scott started Rocket Nine Solutions as a non-profit at first, then later used it when he started his one-man Scrum training company in 2013. The orange, gray, and black rocket themed logo was the branding mainstay for these last 6 years.
When Scott decided to grow the company with more trainers and coaches than just himself, he knew the identity of Rocket Nine would have to change as well. This logo change is just one of many you'll see if you work with Rocket Nine Solutions. What hasn't changed is our real interest in people, in helping teams get traction on their real-world problems, and passion for transformation. Whether it's Larry doing Gemba Walks with teams and inspiring new Scrum masters and Agile coaches, or Victor facilitating an Open Space Technology conference in his laid back, calming style, each Rocket Nine trainer and coach is unique just like the companies and individuals we help along their Agile journey.