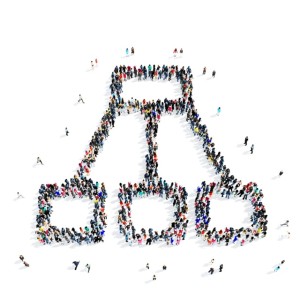 In the coming quarter, Rocket Nine Solutions is hosting both Scaled Agile Framework – SAFe and Large Scale Scrum – LeSS classes by partner trainers. Why both? Aren't they competing methodologies for the implementing agile in large organizations? In fact, both have their strong points. As we continue to work with local SoCal and Bay Area companies to apply an agile approach to their product development (and Ops, HR hiring and Sales and Marketing processes), we've seen a few consistent patterns that we can provide training to help with, beyond the basics of Certified ScrumMaster and Product Owner training.
---
Scaled Agile Framework – SAFe
Scaled Agile Framework or SAFe provides a proven framework with additional roles and structure layered on top of Scrum to

address these issues by having a Product Management group that determines the work ahead for all the teams for the next two to three months. How much of this work and how the teams coordinate doing the work is accomplished via a large all-hands planning meeting. In my opinion, this event is the magic of SAFe. Determining roles, training everyone, getting the large backlog ready in detail and priority – that's the hard prep work. Like with painting, quality prep work leads to quality results. You could say that SAFe tries to improve the way work gets done using best practices of lean and agile in large environments.
---
Large Scale Scrum – LeSS
Large Scale Scrum or LeSS looks first for ways to reduce the size of the effort, looking at our typical approach of adding coordination layers as the equivalent to adding

bottlenecks – more people and events to go through to get things done. Looking at Scrum simply, and it's lean roots, small, co-located, cross-functional teams working closely with the customer is the surest way to get product development flow. How a company can refactor the way work itself gets done, from concept to cash, is what LeSS is starting off with. You could say that LeSS re-imagines the way work gets done using the principles of lean and agile and best practices of large agile companies.
---
What strikes me most about the LeSS workshop is that everyone I know that has taken it, strongly, emphatically recommends it. And these are recommendations from leaders in the global agile community. It's a very deep dive.
For my current coaching client, with 14 teams in seven locations, we are sending all ScrumMasters and some managers to
the Leading SAFe class
, but also some leaders and the most passionate agile advocates to
the LeSS class
.
Take a look at the classes and what might help your organization find and take it's next step. Feel free to reach out to me to discuss them. Better yet, set up a conference call with your leadership for a Q&A and experience reports.
---