René Rosendahl was one of the speakers at our SoCal Agile Leadership Summit on November 6, 2015 at the Disney Grand Californian hotel. René shared about their experience implementing the Agile assessment tool for organizational growth – AgilityHealth.
René recounts his journey from a smaller company of around 450 people to an acquisition into a larger of company of 30,000 with over 20 different business units. From 20 or so SCRUM teams to over 180 domestic SCRUM teams. This kind of growth and diversity comes with challenges for the organization that aims to be agile. They're not doing governance. They are not telling people, "This is how thou shalt do Agile…" For René and his teams it's about making things easier, change management, assisting and helping. They want to promote using Agile to deliver business value in a predictable or responsive fashion depending on the flavor of the business unit. Assisting new teams to get up and running with Agile. Establish teams. Consistently continue to improve. Scaling: there needs to be a way for teams to organize within each business unit and across.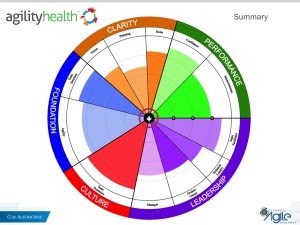 With the AgilityHealth Agile assessment tool the team works with a facilitator that's trained in this process and this tool. The process requires two and a half to three and a half hours to complete a strategic retrospective. The team goes through, answers a bunch of questions, and what comes out of this among other things is a graph of the strengths and weaknesses of that team. The areas are clarity, performance, leadership, cutler and foundation. Those are the key elements of what a healthy Agile team should be looking at. Within that there are different subsections. The team can zoom in to any area to explore more. The team would then look at their "agile health radar". The team sees this in real time as they go through the facilitated session.
If you would like to learn more about René Rosendahl's leadership experience implementing agile on a broad scale and his experience with the Agile assessment tool AgilityHealth, you can read more on his blog Pragmatic Agility.