About Path to Agility
Organizations today are facing massive challenges when it comes to achieving agility. Path to Agility helps organizations focus on successfully achieving desired results when undergoing an Agile transformation.
Over 50% of Agile transformations fail to deliver on the benefits of Agile, costing companies millions of dollars, while increasing frustration and churn. Path to Agility is the solution to this growing problem.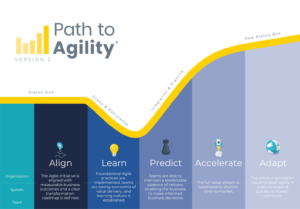 About this virtual Workshop
This is a web-based, instructor-led workshop. Agile Velocity trainers have developed a virtual experience that provides effective learning and practical, hands-on activities, accommodating learners who either work from home or are part of a distributed team/organization. For optimal user experience, it is suggested that participants have a dual-monitor setup and the ability to enable video.
Who Is This Workshop For?
This workshop is for people who are leading change as part of an Agile transformation initiative within their organization. (e.g. Leaders, Scrum Masters, team coaches, internal coaches, members of an internal Agile transformation team, change agents, etc.)