Part of the reason we like Path to Agility is the simplicity of knowing how your Agile Transformation is doing.
Let's take a look at a recent example from a company we are working with.
The team leaders and mid-management at this company self-assessed that they were more than halfway through their Agile journey – attaining predictability and knocking on the door of acceleration (the big prize for senior leadership). This is reflected below.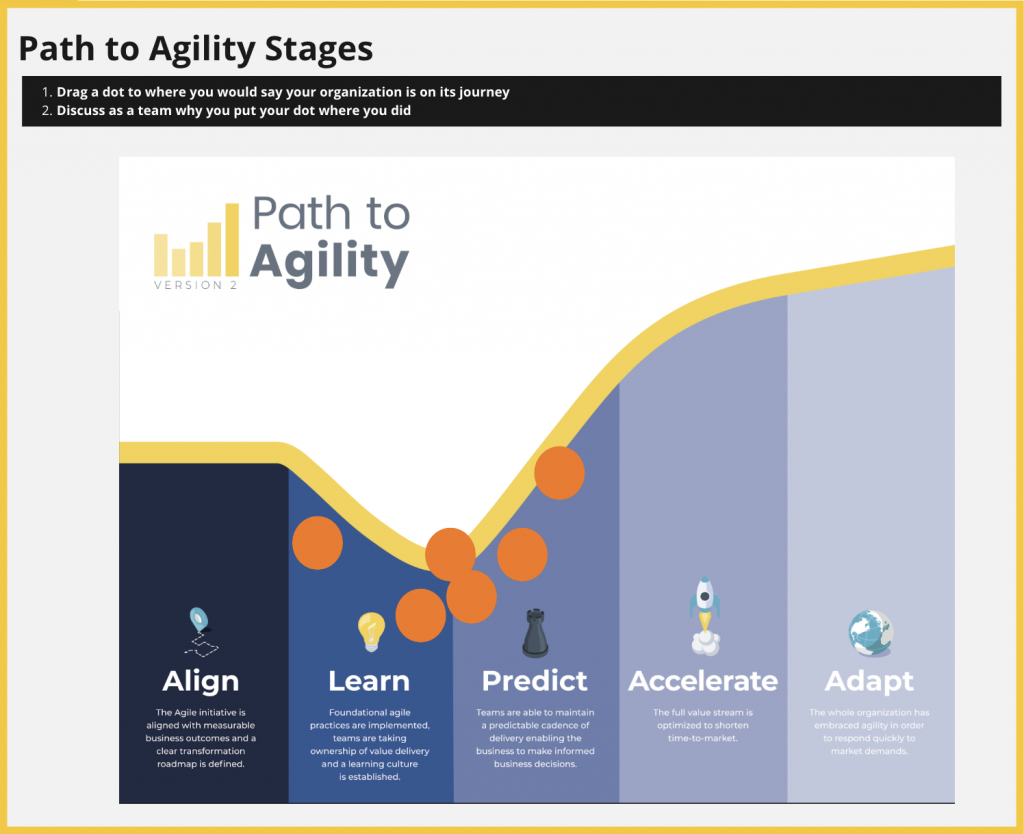 Yet when we walked through the actual checklists for what are the most important pieces needed for that stage (Predict) and the first stage (Align), they weren't passing this reality check. These are the second and third images below.
Quick note – Path to Agility is part of our Scrum Alliance Certified Agile Leadership workshop. You can also sign up for the special one-day full Path to Agility training in October.
Often senior leadership starts the initiative to "go Agile," expecting the results they've heard other companies have gained. But what exactly does "go Agile" mean? With so many approaches and differing opinions, how do I know what is the right approach? And how do we know how we're doing on that critical journey that is often not easy and not short? Path to Agility, based on best practices but trimmed and focused via your company's specific goals provides the guidance and starting blocks. Coupled with creating a map of your As-Is and To-Be Culture, you'll have a plan that addresses the most common setbacks that Agile change champions and leaders will face.
For the company in this example, their low scores were actually received as good news. They now knew, with clarity and agreement, what areas to focus on in their Agile transformation.
For tools and guidance on Agile leadership and leading teams and Agile efforts, it's all in our Scrum Alliance Certified Agile Leadership workshop, held monthly. And we currently have a one-day full Path to Agility training in October.
If you missed our next LinkedIn Live session last week on Path to Agility, you can find it on our YouTube channel here. P2A is one of the class highlights of the CAL-ETO class. Be sure to follow us on LinkedIn and YouTube to be notified of our regular events!