Don't Make the Same Leadership Mistake I did…
"Don't make the same leadership mistake I did," he told me. "Make sure spending time with your people is your number one priority."
I had just taken over as manager for a 20+ person group. My colleague was on his way out of the company, under less-than-ideal circumstances.
I repeated his mistake, and a made a number of others that I didn't realize then, but I realize now.
Surveys routinely show that about 70% of employees report the most stressful aspect of their jobs is the interaction with their immediate boss. Or, as I've heard, "People come to a company for many different reasons: benefits, growth opportunity, name recognition, etc. But they stay based on their relationship with their manager."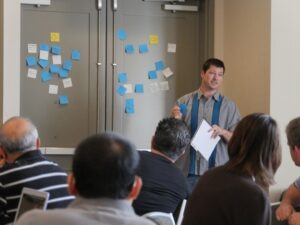 Companies tend to promote the best technical person, but those skills aren't always the best for leading and drawing the best out of their team. In fact, those skills might be counter-productive to leadership! Add to that, the fact that almost half of all leaders will continue to rely on their technical expertise for success, rather than continuing to grow and progress through higher levels of leadership (there are five stages). This is a sure recipe for a leadership mistake.
Makes sense, though, right?
Even though I'm now a newly minted manager, I should keep relying on my technical knowledge because that's what got me here, that's what I'm good at, and, truthfully, stepping out into something I don't know (and therefore, how could I be good at?) doesn't make sense and isn't all that comfortable. But as they say, what got you here won't get you there. The manager will hit the ceiling of effectiveness, limited to how well he can direct and how fact he can make decisions on behalf of the team. More of a supervisor than a leader.  And if that experience doesn't go…awesome…he or she will now be stuck because there's nothing amazing going on with this team worth promoting up, and he or she is not liking this role that they're obviously not great at (but they WERE great at their old technical position!!).
So, what do we do?
Learn about leadership! This is no different than a programmer continuing to learn and grow after he or she got the job.
I've spoken and written a few times about leadership, and there are certain books and sources that really helped me. Take a look at those and see if you find something interesting.
Even better – take a look at our three day deep dive Certified Agile Leadership workshop in January. Pete Behrens, the trainer, has been in executive roles, and in the agile community for almost two decades. Pete has worked with GE, Google, Salesforce, along with others. He speaks on this topic of leadership development at numerous international conferences.