Certified Scrum Developer Training
Why Certified Scrum Developer training? Without the technical practices, Scrum will fail. Your team will perhaps build and demo software quickly, but will it be quality code that's easy to maintain? If QA barely got the new features tested, how will they stay on top of the next set of new features AND regression test the last set?
This Scrum Developer training track covers, hands-on, the technical practices that enable teams to build quickly, iteratively AND sustainably. These courses are the right choice for all team members who are involved in creating your software solutions.
Developer Track
All Developer Course Dates
When Scott Dunn, the founder of Rocket Nine Solutions, was a manager he would suggest these technical practices to his team members, but couldn't walk them through it as an expert. In his experience, they need someone with the technical chops to sit down with them and walk them through it, hands-on. Our Technical Coach, Paul Moore, brings years of direct experience using these practices to ship successful software solutions. From single team start-ups to enterprise organizations where many teams participate in the product delivery. Having someone who can work with your developers in their codebase is key in applying these new techniques to their unique situations.
Not only that, but much of DevOps is built on a solid foundation of the Automated Testing and Continuous Integration practices. Getting these practices down within each sprint is the first step towards realizing the promise of DevOps.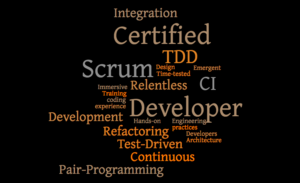 Description
The Certified Scrum Developer learning track gives your developers the understanding and practice of a cross-functional and iterative mindset needed by highly-responsive Agile teams.
Courses and topics on the Certified Scrum Developer track:
Certified Scrum Developer
This intensive two-day course will prepare you to succeed in your role as a Scrum Developer. It includes the full Scrum/Agile experience, including planning, development, testing, and retrospection. You will understand why Agile development originated and how adhering to agile principles can guide you through challenging situations.
The course is taught through lecture, demonstration, and hands-on practice, creating software in pairs and small groups. You will gain experience in the most important tools and techniques needed to craft quality code in an iterative and incremental fashion that Scrum requires. These ideas are the basis of agile product development.
Topics include:
In addition to learning the fundamentals of Scrum and agile, you will also have hands-on experience with:
Backlog refinement and planning to incrementally define solutions that delight your customers
Collaboration through pair and mob programming to minimize misunderstanding
Unit testing and test driven development for confidence in your solutions
Integrating continuously to take advantage of faster feedback cycles
Refactoring for maintainability and future changes
CSD Course Dates
Advanced Certified Scrum Developer
Take the foundation laid in the Certified Scrum Developer training to the next level. This hands-on course will strengthen your skills as a collaborative Scrum team member and technical lead. The techniques build your confidence to tackle existing code bases, add automated tests, make the code more maintainable, and reduce bugs that escape the sprint. Attendees will also draw from the broader world of Agile beyond Scrum to aid them in adapting their process to best help their team deliver the most value and delight their customers.
Topics include:
Experience fast feedback through Continuous Integration
Measure your code to identify and manage code quality
Practice ways to work with teams that your team depends on
Deeper dive into automated tests that guide design and confirm behavior
Decide when to take on Technical Debt and how to pay it down
Respond to changing business demands through emergent design
Test Doubles to isolate your work from outside dependencies that slow you down
A-CSD Course Dates
Certified Scrum Professional – Developer
Certified Scrum Professionals challenge their teams to improve the way Scrum and Agile principles are applied. They have demonstrated experience, documented training, and proven knowledge in Scrum. The CSP® certification is unique to developers and distinct from a Certified Scrum Professional®-ScrumMaster (CSP®-SM) or Certified Scrum Professional®-Product Owner (CSP®-PO).
New course offering coming in 2023!
Please add your information to the form below to be notified when we list our first class.
With all these practices, many of them drawn from Extreme Programming, I treat them as tools in my toolbox. I don't always need a hammer, I don't always need a screwdriver, but having those tools, when I can apply them in the right situation, they really are effective.

– Paul Moore, CSD Instructor
Certified Scrum Developer Training Interest Form
If you have any further questions, or would like to request information about a private class, please fill out the form below:

Certified Scrum Developer Training Related Content
Effective Scrum Development Practices: the Hole in the Scrum Framework
Certified Scrum Developer: Certification Path Update
Why take Certified Scrum Developer Training
CSD Requirements per Scrum Alliance