Certified Agile Leadership
Certified Agile Leadership
This two-day Certified Agile Leadership (CAL) training covers the role of executives from the C-suite to the VP and AVP level, as well as mid-level management, product managers and division managers in organizations trying to experience the wins made possible by following an agile approach to working.
Content includes Leadership Agility (types of managers), company cultural models, tools to change the organization and organizational transformation stories.
Even without backgrounds or training in Agile, managers have come away from this class with broader understanding of their role, and real tools to help the Agile adoption at their company. They manage differently, they lead differently, and the change and results have been apparent to their leadership and their reports.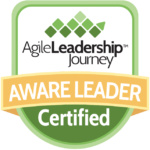 Rocket Nine Solutions is proud to have hosted and run Certified Agile Leadership (CAL I) classes since 2016. We've worked with some of the pioneers of this training material.
Certified Agile Leadership (CAL I) is part of the leadership pathway charted by the Scrum Alliance.

Looking for information of the CAL II/ALJ Certified Practice Leader Program?
Questions regarding agile leadership training? Contact us below to speak with someone, or for quotes for full or abridged private, internal training.